As a gift for your mom,this limited stock Stainless Steel Barbecue Clamp will be the perfect!
With this, you can easily pick up and flip anything you want. It is the perfect assistant for amateur and professional cooking.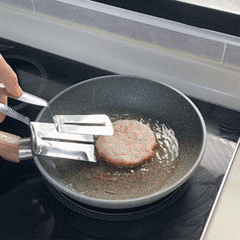 Here comes our Early Mother's Day Promotion!We sell this Stainless Steel Barbecue Clamp $16.98.Act fast before sale ends.
MAIN FEATURES
[MULTI-FUNCTION KITCHEN TOOL] Grab, flip & cleans! Using this 3-in-1 cooking tong, flipper, and scraper, no more switch between several cooking utensils. Grab-and-hold in just one step to ensure cooking at the proper time.

[MULTI-FUNCTION FOOD CLAMP] Convenient to keep the excess fat in the pot and make the food healthier. It is larger than ordinary tongs, so it is enough to grab various foods such as grilled fish, steak, and patties.

[STAINLESS STEEL MATERIAL] Food-grade high-quality stainless steel material, easy to clean, dishwasher safe. The edges are smooth, not easy to bend and break. Ergonomic design in handle part for a comfortable and secure grip. 

[HANGING STORAGE] It can be hung for storage when not in use, and it can be dried quickly to prevent the growth of bacteria and save valuable kitchen space. 
USAGE SCENARIOS
Suitable for family and professional cooking, picnics, and outdoor barbecues.
USING METHODS